Admate for Chartboost Released
In an effort to improve the efficiency of Chartboost users, I've released a mobile application titled Admate for Chartboost. Admate makes use of the Chartboost API in order to deliver app and campaign analytics directly to your mobile device.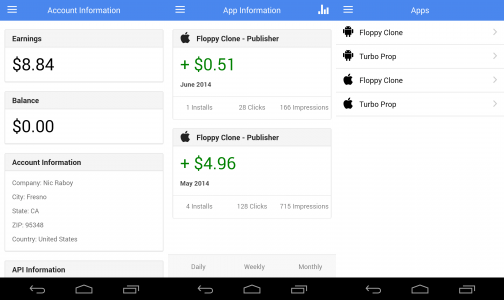 Measure your publisher and advertiser analytics with Admate for Chartboost. See how well your ads are performing and how much your apps are earning in this quick and easy to use application.
Features
Quick access to total account earnings and balance
Transfer funds from earnings total to advertising balance
Easy to understand app and campaign listings
Organized views of installs, clicks, and impressions
View daily, weekly, or monthly analytics
Download it from the following mobile app stores
Google Play – https://play.google.com/store/apps/details?id=com.nraboy.chartboost iTunes – https://itunes.apple.com/us/app/admate-for-chartboost/id886913472