OTP Safe for Chrome Released
If you've been keeping up with my work, you'll remember in 2014 I released an app called OTP Safe for Android and iOS. This was a hybrid application created with Ionic Framework, that manages time-based one-time passwords (TOTP) commonly used for two-factor authentication (2FA).
I'm starting 2015 off with a bang by releasing my first ever Google Chrome extension. OTP Safe for Chrome was designed to mimic the functionality of the iOS and Android versions, but for laptop and desktop computers.
I've gone ahead and made the Chrome version of OTP Safe free without limitations or advertisements.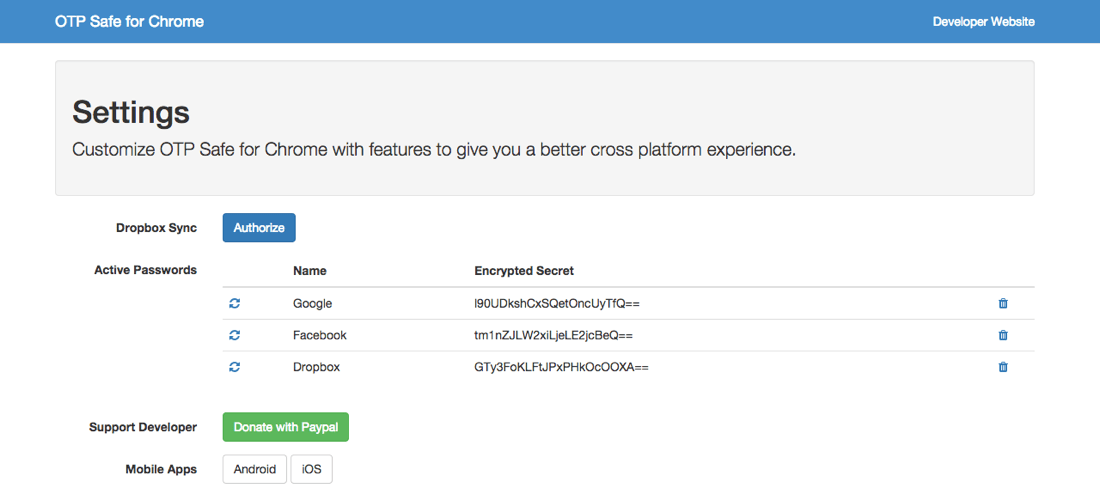 OTP Safe is a simple time-based one-time password (TOTP) manager for all your two-factor authentication (2FA) needs.
Features include:
Generate six-digit one-time passwords every thirty seconds based on a secret key
Keep your one-time passwords synced across all your devices with Dropbox
Clean, easy to understand interface
Compatible with popular sites that implement two-factor authentication, such as, but not limited to Google, Dropbox, Github, and Digital Ocean
Download OTP Safe for Chrome for free from the official Google Chrome Web Store.