Create A Screencast With QuickTime And iMovie 10
I publish many video tutorials to YouTube and Udemy, but have you ever wondered how I created them? I know there are a ton of people out there that have serious skills worth sharing, but may not know how to make a video tutorial. I plan to clear things up and demonstrate that making video screencasts isn't all that difficult.
We'll be using free software that ships on every Mac computer. We'll be using QuickTime for recording our screens and iMovie 10 for editing the videos that were recorded.
Let's start by opening QuickTime Player for Mac. With it open, choose File -> New Screen Recording from the menu:

This should bring up a small recording dialog with its own menu for choosing the input source. You'll also have the option to show your mouse clicks during the recording. I like this feature because it shows your viewer where you are clicking or what you're trying to do.

After clicking the record button, you will be able to choose to record the entire screen or a part of the screen. My preference is to record the full screen.
When you're done recording, you'll have to stop the QuickTime session. In the top right of your screen, in the tool bar, you should see a little stop icon:

When you click it your video will begin processing. Clicking File -> Save will let you actually save it.
At this point, you now have a screencast to work with. It is now time to boot up iMovie and the editing process. This process can be a little time consuming, but you'll get good at it and it won't take much time at all.
With iMovie open, choose File -> New Movie from the menu:

Choose No Theme and give your project a name.
When your project has been created you should see an arrow in the center of the screen that says Import Media. The same can be accomplished by choosing File -> Import Media… from the iMovie menu.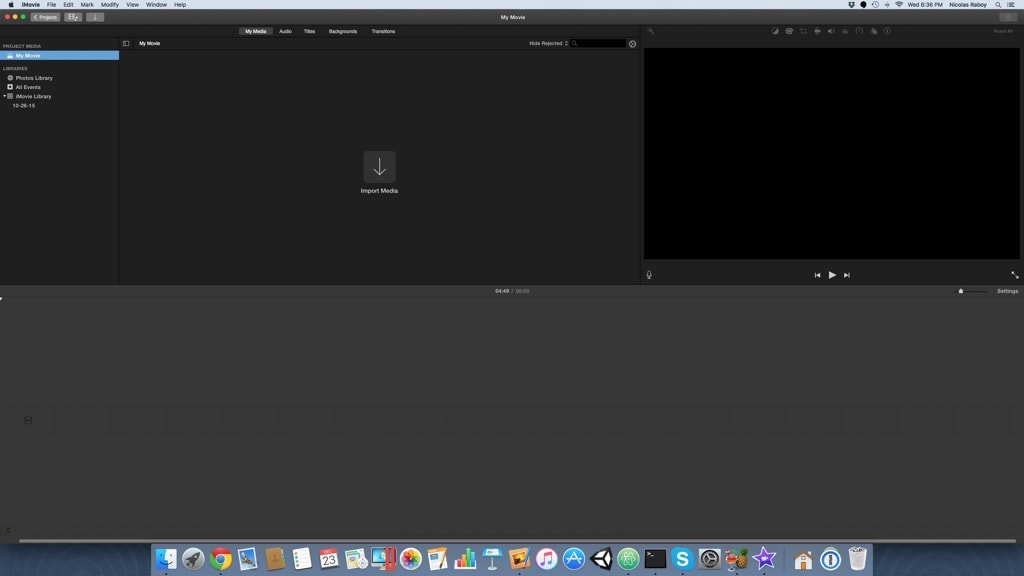 After choosing to do this, find the movie file produced by QuickTime Player.
Any files imported can then be dragged into the movie timeline at the lower portion of the screen.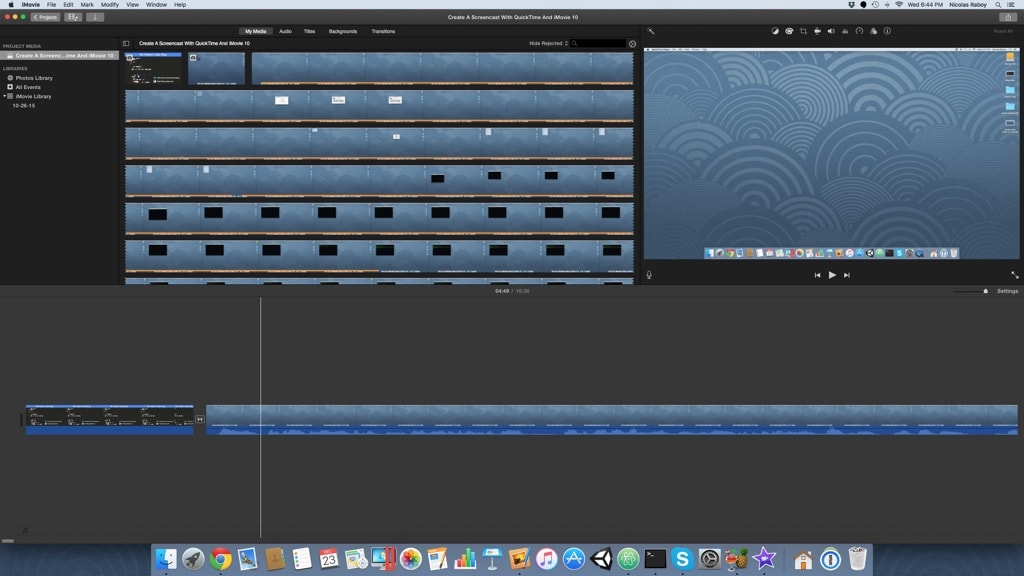 During the editing process, should you need to cut a clip, place the tracker at the portion you wish to split and press the Command + b key combination. Other tricks can be done in iMovie such as volume adjustment, zooming in on a portion of the screen, or adjusting playback speed. All of these features I've used at some point in time.
When you're ready to export your project into a movie file that can be uploaded to YouTube, click the share icon at the top right of the screen and share it to file.
Conclusion
Although a little time consuming at first, recording a programming tutorial with QuickTime and editing it with iMovie wasn't particularly difficult. This is a great skill to have because not only will you gain the respect of other developers, but YouTube and other video websites are quite profitable. You can earn a lot of money with the video tutorials that you produce.
A video version of this article, which offers much more depth, can be seen below.