Amazon Echo vs Google Home, My First Impressions
I don't typically write product reviews, but since I'm a huge advocate for the Internet of Things (IoT) and smart home technologies, I think it makes sense to share some opinions. I own an Amazon Echo and a second generation Amazon Echo Dot. Today (November 4th), I received my Google Home that started shipping to everyone this week.
The following is my opinion between the two brands, where each succeeds and where each falls short.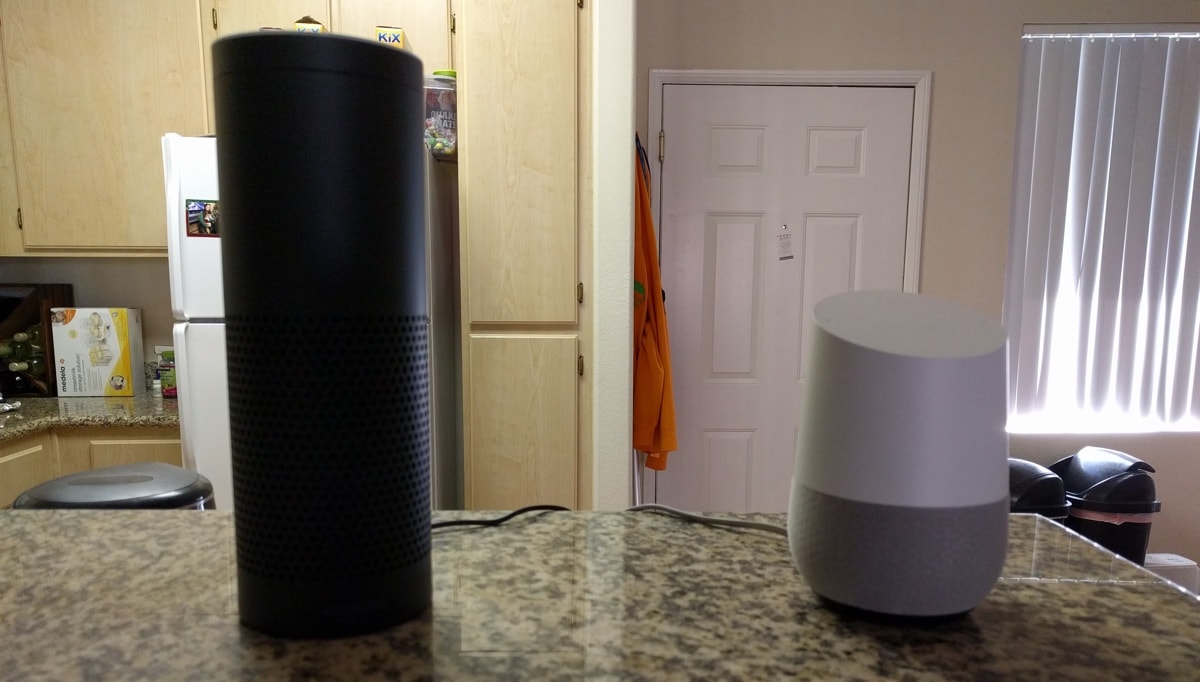 Above are both devices in my apartment. They won't both exist in the same location when I'm done testing, but for now it makes sense to leave them side by side.
Amazon Echo and the Alexa Voice Assistant
Since I've been an Amazon Echo owner for a few months now, I think it would make sense to start with my opinions on the Echo before moving into the Google Home. My opinions will be based off the full size Echo, not the Dot that I own.
First let me start by saying that I love this thing. I use it for pretty much everything from controlling my smart home devices, to helping me cook, to even doing math for me when I'm too lazy to pull out my phone.
From a hardware perspective, the speaker is incredibly crisp and while some would argue against this, I find the unit itself to look visually appealing in my apartment. From a software perspective, Alexa is very easy to understand and speaks like a normal human would.
There are a few things that leave the Amazon Echo with things to be desired.
I always find myself having to repeat myself. Amazon advertises that the Echo comes with seven microphones built in, but the unit never seems to pick up my wake word. This is even more so when I have music playing or an alarm going off. I don't like having to shout "Alexa" ten times before it recognizes that I'm talking to it.
Amazon does a pretty great job when it comes to machine learning, but the things Alexa can do out of the box is lacking. Occasionally I will ask Alexa something non-typical like "When is the next episode of Tosh.0", but it won't know. Not too big of a deal, but that is only one of many examples where Alexa won't know how to answer my question.
Google Home and the Google Voice Assistant
Now let me share my first impression of Google Home and the Google Voice Assistant after a few hours of using it side by side with my Amazon Echo.
From a design perspective, it looks a lot nicer than the Amazon Echo, even though I like the way the Amazon Echo looks. It is a white unit with a soft gray speaker cover. I do wish it were black, because it will hide dirt better, but it isn't a big deal for me.
The first thing I did when I started using the Google Home was test it against the things I had problems with when it came to the Amazon Echo.
I played some music, set some timers, and I tried to get it to recognize my voice through all the background noise and self emitting audio. With only two microphones, it had no problem hearing me the first time, every time. Is this because the microphone hardware is better than the Echo hardware, or is it because the Google software is better built around listening? I have no idea.
Next I started asking questions that my Amazon Echo couldn't answer. The Google Home had no problem answering these questions in an acceptable fashion.
The Google Home can't be perfect, right?
There are a few things I noticed that I didn't particularly like, both in a hardware sense and a software sense. The Google Home speaker does not sound as crisp as the Amazon Echo. If you're getting a Google Home with the intention of playing music, you might be a bit disappointed. From a software perspective, the voice assistant responses are very fast and a bit electronic. It sounds like a fast speaking robot is responding. I imagine that I'll have to ask questions multiple times before I can mentally process the response. There also seems to be an issue with volume control where each volume interval isn't balanced. For example, changing from volume 5 to volume 6 was hardly noticeable.
Conclusion
I think both the Amazon Echo and Google Home devices are great. I think everyone expects the Google Voice Assistant to be smarter than Amazon Alexa because Google has been in this game a lot longer. I feel the assumption of intelligence did not disappoint. However, from a hardware and quality of assistant perspective (clarity and speed), Amazon did a much better job.